FF Series (412FF/414FF/417FF)
페이지 정보

본문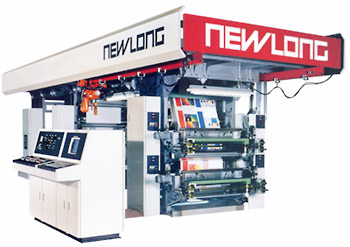 NEW LONG presents the stack type flexographic printing press developed through the latest electronics and precision technology after long term experiences supplying more than 1,000 machines both of C.I.type and stack type into printing industry.


Water soluble ink can be used with machine so antipollution equipments are not necessary for the press.


Precise printing can be achieved by NEWLONG's ceramic anilox roll applying doctor blade.


Flexography is suitable for all over printing or wider printing.

Surface rewinder by 2 rolls (Step-up rewinding roll type)



1. Rewinding tightness is adjusted by tension pick-up and AC inverter.

2. Pneumatic weight roll preventing slip of web roll when the small diameter,which pressure is controlled by pressure reduction valve.

3. Web roll discharging device.

4. Aluminum air shaft (shaft outer diameter 76mm)

One shaft type



1. Unwinding tension is adjusted by tension pick-up and powder brake(tension digital indicator attached)

2. Semi-automatic web roll lifting device

3. Aluminum air shaft (shaft outer diameter 76mm)

4. Lateral positioning done by handle(30mm)

Gear box for colour deck positioning


(1) Positioning handle to move plate cylinder frame and inking frame
(2) Adjusting dial for inking frame (0.156mm/cycle)
(3) Adjusting dial for plate cylinder frame (0.156mm/cycle)
(4) Plate cylinder lifting device by hydraulic mechanism (to release plate cylinder from wet ink when machine stopping)
(5) Hydraulic motor for fountain roll(Anilox roll and fountain roll rotate in 50-80rpm to prevent ink getting dry when the plate cylinder released from printing position.)
(6) Lock lever for colour deck positioning
(7) Doctor blade


(8) Longitudinal printing position adjusting handle
(±5mm)
(9) Lateral printing position adjusting handle
(±10mm)

| | |
| --- | --- |
| | |
| | |
| Impression adjustment digtal scale | Printing unit for varnish coating available for UV system |
| | |
| --- | --- |
| 412FF | Gas drying system is applied to the machine on the drawing |
412FF

414FF

417FF

Max.web width

1,250mm

1,450mm

1,700mm

Max.printing width

1,200mm

1,400mm

1,650mm

Printing length(10mm pitch)

300-750mm

300-750mm

400-960mm

Max.printing speed

200m/min.

Number of colour

4

Max.web diameter(unwinder)

1,200mm(depending on printing materials)

Max.web diameter(rewinder)

1,200mm(depending on printing materials)

Drying system

electricity,gas,steam

lnking system

two rolls or doctor blade(*doctor chamber)

Printing materials

Paper 50-120g/㎡ PE PP 20-80× thickness film

Dimensions
Standard machine
The machine with
varnish coating device

L×H×W
9,500×4,500×4,500
11,300×4,500×4,500

L×H×W
9,500×4,500×4,700
11,300×4,500×4,700

L×H×W
9,700×4,500×5,000
11,500×4,500×5,000

Digital scale for printing adjustment
Printing unit for varnish coating (for UV system)
Separated rewinding roll system
Rewinding web roll edge slitter (at front of rewinder)
Ceramic anilox roll
Doctor chamber*
Chill roll (AC servo drive/counter shaft drive)
Scanning device (mirror,TV monitor)
Dust extracting device
Ink pan teflon coating
Ink circulation pump (motor/diaphragm)
Plate cylinder (sleeve type)